Hawaiian Style Full Service Caterer in Portland
For catering information, please call us at 971 404 8586

Email: Aloha@bghawaiiangrille.com

General Information

Big or small, we will help you organize your event. Take a look at the menu... jot down a few notes/questions. Call or email us with your thoughts. Think about not only how many people, but what kind of eaters are your guest? Big meat eaters, vegetarians, small appitites, lots of kids? If you are conscience about budget, options to consider: you can pick up your food, we can drop it off (dependant on schedule) or we can do it all. You can also have your event here at the Grove!

If you are unfamilliar with your food, please set up an a tasting appointment. Note that you are not beholden to our menu!

Regardless of location, we can handle rentals, music, servers, bartenders, photographers, DJ service, lighting, tents......

Just ask!
Magic...
It occurs when the right elements are in place. Bamboo Grove Hawaiian Grille specializes in gathering these elements for your dining pleasure. We offer the best in homestyle island cuisine with flavors so true, so authentically delicious, you'll rediscover the romance of the islands...even if you've never been there.

Call us

We'll help make your wedding experience impeccable.
Great Food...
Taste, Quality, Variety, Charm

Our fare is an eclectic blend of Japanese, Chinese, Korean, Portuguese and traditional Hawaiian favorites that have long been the mainstay of homestyle Island cuisine.

Craving luau delicacies like kalua pig, lomi salmon and laulau? We've got what you need!

Paradise for any palate, perfect for any occasion....there's something for everyone at the Bamboo Grove.
Great People...
Our friendly staff has the experience, knowledge and resources to make your rehearsal dinner or wedding reception a success. We can accommodate up to 70 people in our restaurant and are "approved caterers" for most off-site locations.

Not sure what you want? No problem!

Our Ohana will customize a catering package to fit your specific needs.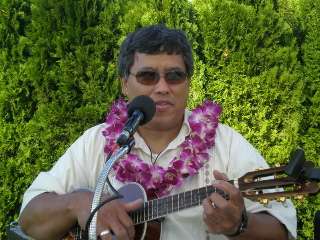 Music By Hawaiian Charm
Sample Reception Menu
Cocktail Hour:
Pre-mixed Mai Tai's, Virgin Margarita's
Kona Beer Kegs
Lumpia Appitizers


Dinner: Buffet Set-Up
Halekulani Champagne Fruit Salad
Macadamia Caesar Salad
Island Macaroni Salad
Kalua Pig
Flaken Cut Kihei Short Ribs
Vegetarian Yakisoba Noodles
Spicy Grilled Korean Chicken
Macadamia Nut Crusted Baked Mahi Mahi
White Rice


The above is comprised of items from our restaurant menu and some not. We can tailor your menu to fit your event. Click here to be directed to our inquiry page. Mahalo!